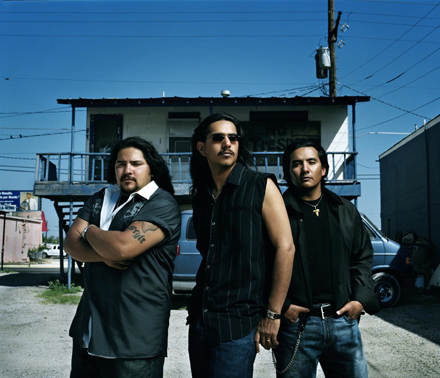 Hailing from San Angelo, TX, Los Lonely Boys are a sibling trio whose music draws equally from Rock, Blues, Tex-Mex, Conjunto, and Tejano.
Such a combination is shaped by the band's three brothers: guitarist Henry Garza, bassist JoJo Garza, and drummer Ringo Garza, Jr. The siblings' father, Ringo Garza, Sr., was a member of another sibling band, the Falcones, who played conjunto music around Texas during the '70s and '80s. After that group broke up, Garza went solo, backed by his three sons even before they reached their teens. The family relocated to Nashville in the 1990s, and gradually the sons emerged as a group separate from their father.
After moving back to Texas, the boys recorded their debut album, 2003?s Los Lonely Boys, at Willie Nelson's Pedernales studio in Austin with Nelson sitting in. Epic Records picked the album up for major-label distribution in March 2004, resulting in a high chart placement for the album's lead single, "Heaven," as well as a Grammy Award for Best Pop Performance the following year. The Boys released their eagerly awaited sophomore album, Sacred, in 2006, and Forgiven followed in 2008. A holiday album, Christmas Spirit, also appeared in 2008, and the band hit the road for an acoustic tour one year later, punctuated by the release of the covers-only 1969 EP. They released their last recording for Epic, Spirit of Christmas, in 2008.
Though touring nearly constantly, the trio has stayed deeply rooted to community causes. They recorded the single "Solid Ground," about the Family Justice Center of Erie County (which won the Austin-based CTK Foundation's Heart and Soul grant for 2009). The FJC provides services for victims of domestic violence. Written with poet Nancy Ghoston, "Solid Ground" was released in January of 2010.
During touring in the spring of 2010, JoJo Garza developed vocal problems. Physicians discovered lesions on his vocal cords and recommended that he rest them, causing the band to cancel its April and May appearances in the U.S., Canada, and Europe. This also pushed back the release of their debut independent offering, Keep on Giving: Acoustic Live!, their first release on the Lonelytone/Playing in Traffic imprints; the album was eventually issued in the fall of 2010. Los Lonely Boys returned with their first new studio offering of all original material in three years with 2011?s Rockpango (a made-up Spanish word that the band translates to English as "rock party"). ~ William Ruhlmann & Thom Jurek, Rovi